TIMBERLINE Indoor Shooting Range
State-of-the-art describes our indoor range. User-friendly Touch Screen controls precisely position targets to your desired range. Advanced shooters benefit from the pre-programmed challenge courses that test your skills! Open to both handgun and rifle, and any round up to .300 Win Mag. Our Range Safety Officers ensure your and other shooters' safety while you're on the range. We have a wide variety of ammunition and targets available for purchase.
Timberline Firearms and Training is committed to SAFE and Responsible Firearms ownership and use.
10
Safety & Training Courses offered
1000
+
Interactive Laser & Live Fire Scenarios
VIRTUAL TOUR
Click through this virtual tour and explore our entire facility from the Store, to the Range Lanes, Member's Lounge and more!
FIREARM RENTALS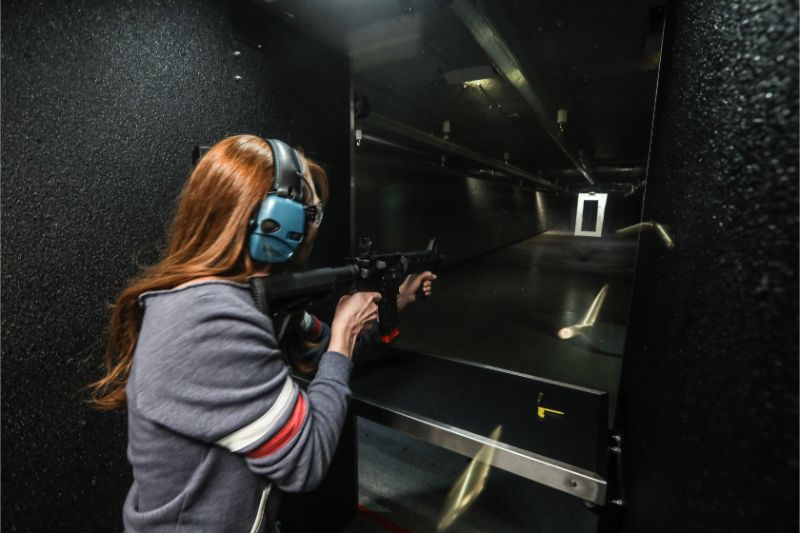 NO GUN? NO PROBLEM.
We have over 30 firearms on our rental wall for you to choose from. They span the entire spectrum from those with low recoil, which are great for first-time shooters, to AK-47's and a Full Auto M4. If you like it so much you'd like to buy it, we subtract the rental fee from your purchase!
ALL RENTALS MUST BUY RANGE AMMO.
RENTAL OPTIONS
NEW GLOCK 17 WITH REFLEX TRIGGER
SPECIAL EVENTS
We'll host your next staff or board meeting in our state-of-the-art classroom, and then your team can join us in the range for a real team-building experience. Our classroom includes an interactive projection system that allows you to draw directly on the screen. We have a full surround sound system to ensure your message is heard! Our private Bay 2 offers your team a chance to start with the basics or jump right into the FULL AUTO experience!
CAMP SAVAGE
We also have an outdoor range located just 10 minutes from our shop. Camp Savage is a 40-acre facility that provides an excellent and safe place to compete and train on more advanced skills. There are six 25-yard pistol bays (one is 360 enclosed) and both 100-yard and 240-yard rifle bays. Our premium level Humphrey's membership includes private use of Camp Savage, and we also rent it out for special events.
FREQUENTLY ASKED QUESTIONS
What are the range fees?
Lane rentals are $25 for the first shooter, and a second shooter can join on the same lane for only $12.50.
Do I need to make a reservation?
No! Reservations are only required for groups of 4 or more who will need safety instruction. Otherwise, we are a first-come, first-served range!
How much are the firearm rentals?
Just $15 to rent any firearm, except the full auto firearms. Rental fee for multiple firearms is $25.

Can I rent fully automatic firearms?
Yes! The package includes M4 Rifle or a MP5 Pistol, 2 full magazines, a target, eye/ear protection and range fees, all for just $99.
Do I need to have eye and ear protection?
Eye and ear protection are required when you are on the range. We have them available for rent for $5.
What about targets?
We have a dozen different targets to choose from and they are $1.99 ea.
What should I wear?
For safety reasons and to avoid contact with hot brass, we do not allow open-toe shoes or low-cut shirts inside the range. This applies to both shooters and spectators.
What's the range length?
The indoor range length is 25 yards.
What's the Maximum Caliber allowed at Timberline?
We allow up to 300 Win Mag.  Nothing greater than 3800 Ft/Lbs of muzzle energy.
Are there ammunition restrictions?
Yes, we do not allow steel-core ammo, bi-metal, or tracers.

Can I bring my own firearm? Even full auto and suppressed?
Yes you can! We require all firearms to be cased or holstered before entering our facility.
Do you offer special orders for retail firearms?
Absolutely. We're happy to explore our network of wholesalers and find that firearm you've always wanted!
Are there age requirements?
For safety reasons, we do not allow children under 10 years old.
Children 10 and older are allowed to shoot with a parent.
Must be 18 to use the range without a parent.
Must be 18 to rent a long gun.
Must be 21 to rent a handgun.
Is Timberline Firearms Wheelchair Accessible?
Yes! We have wheelchair accessible lanes available.